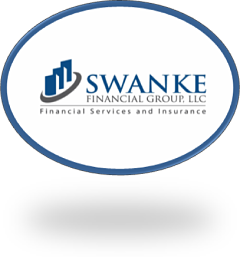 Welcome to SwankeFinancial.com

Please feel free to explore this site to gain a better understanding of our firm and how we help our clients plan for and work towards their financial goals.  If you have come looking for an experienced professional to coordinate your company's retirement or pension plans, you have come to the right place. If you are a successful individual looking for an Investment Adviser Representative*, you too are in the right place. Swanke Financial's purpose is to help create and preserve well being for both businesses and individuals. After talking to us, you will know you have been heard. We begin by determining your financial and personal goals. We will create a strategy that will help you pursue your goals. Planning for your future is not an easy process. Effective planning involves two important components: investment management and preserving your wealth. Our goal is to help create financial solutions and provide courteous and quality personal service.

We invite you to use the Contact tools to ask us any questions you may have. Please let us know if there is any other information you would like to see on this site.

Thanks for stopping by. We appreciate your visit.
Albridge Wealth Reporting Login
An overview of Section 529 savings plans, including their traditional use for college saving and the new rules for K-12 tuition.

Younger baby boomers may be facing a more challenging retirement landscape than older members of the generation, according a recent survey.

The new tax law includes several provisions that could benefit business owners, such as the pass-through deduction and write-offs for capital investments.

Review the potential benefits of an individual disability income policy vs. a group policy, as well as common riders.
A balance sheet summarizes your assets and liabilities and reveals your net worth.

Use this calculator to estimate the cost of your child's education, based on the variables you input.

Estimate the future value of your current savings.

Calculate the rate of return you would have to receive from a taxable investment to realize an equivalent tax-exempt yield.